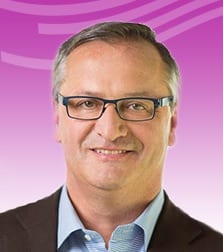 Darren joined Polaris Partners in 2020 as a partner, and he focuses on investing in therapeutics and healthcare technology companies.
Prior to joining Polaris, Darren completed a 22-year career with the pharmaceutical firm Eli Lilly and Company in Indianapolis. For the past decade, Darren led Lilly's global business development efforts, retiring in 2019 as senior vice president of corporate business development. He was responsible for all strategic transactions at Lilly, ranging from venture capital investments and acquisitions, to company formation and divestitures. During Lilly's 145-year history, the two largest deals — the $8 billion acquisition of Loxo Oncology and the $13 billion spin-out of Elanco Animal Health — occurred during Darren's leadership. Among the many deals Lilly completed during that time, Darren is most proud of the result that 10 new medicines became available to thousands of patients.
Earlier in Darren's career at Lilly, he reorganized and led the company's venture capital operations and formed the current Lilly Ventures. He also was the founder of Lilly Asia Ventures, one of the most successful life science VC funds in China. During his tenure leading Lilly's venture activities, Darren served on the board of directors for multiple portfolio companies, including Citic Pharmaceuticals, Novast Holdings, and Hydra Biosciences (also a Polaris Partners portfolio company).
Darren was the founding CEO of InnoCentive, Inc., the first open-innovation company in the life sciences. He created the company as a Lilly subsidiary and spun it out to investors in 2005. During a "sabbatical" from Lilly, Darren led both corporate and new product development at RealMed, a healthcare transactions and technology company that is now part of Availity.
In the 1990s, Darren left private legal practice in New York and joined Lilly to head legal matters for Lilly's global technology group, which included the pharmacy benefit manager PCS Healthcare. He later led legal matters for Lilly's flagship medicine, Prozac.
Darren earned an AB in political science (summa cum laude), Masters in public administration, and JD in law from Syracuse University, where he held the University Fellowship, L.E.S. Fellowship, and Lehman Fellowship.