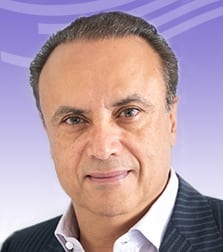 President Research & Development
Dr George Garibaldi is co-founder and President of the Research & Development of Noema Pharma AG. He had previously progressive leadership responsibilities in research and development across multiple major pharmaceutical companies. Most recently he served as VP global head of CNS at F. Hoffmann-La Roche.
Dr Garibaldi trained in child psychiatry, statistics, and neuropsychopharmacology. During his tenure at Roche, he lead the development of multiple therapies including OCREVUS® (ocrelizumab), approved in 2017 for Primary progressive and relapsing-remitting multiple sclerosis. Prior to Roche, he was Head of Psychiatry and Geriatric Psychiatry at Novartis and Neuroscience Therapeutic Area Lead at Janssen Pharmaceuticals. Throughout his career, Dr Garibaldi developed therapies for multiple conditions including Exelon® (rivastigmine) in Alzheimer's disease, Fanapt® (iloperidone) in schizophrenia, Risperdal Consta® (risperidone long-acting injectable) in frequently relapsing patients with bipolar disorders, Invega® (paliperidone) in patients with schizoaffective disorder and lead the regulatory submission and approval of Risperdal® (risperidone) in autism spectrum disorders.
Dr Garibaldi serves as peer reviewer for multiple scientific and medical journals. He authored more than 100 articles in peer reviewed journals. He developed, validated and published a number of clinician- and patient-reported clinical outcomes including "The Readiness for hospital Discharge Questionnaire in schizophrenia", "The Patient most Troubling Symptoms scale in Anxiety and Depression", "The Readiness for Work Questionnaire in schizophrenia" and "The Clinical Global Impression for Schizoaffective Disorder".
Dr Garibaldi is a board member of several biotechs and serves on the scientific advisory boards of many companies. He is member of the American Academy of Child and Adolescent Psychiatry (AACAP), founder and past president of the International Society for Central Nervous System Clinical Trials and Methodology (ISCTM) and former chairman of the International Society for CNS Drug Development (ISCDD). He is the recipient of multiple awards including the ISCDD award for innovation. Dr Garibaldi is widely recognized by his peers as an innovative and collaborative leader guided by his dedication to developing novel therapies for patients.
Dr Garibaldi earned a M.D. from the faculty of medicine of Cairo University. He completed his residency in psychiatry at the Rene Descartes Medical School, his studies in statistics and mathematical modeling at the University of Kremlin-Bicêtre, and his studies in Neuropsychopharmacology at the Pitié Salpétrière.